Launch into the Spring with Stream Machine: Water Warfare
There's still plenty of time to prepare for the upcoming watery skirmishes that will be transpiring in the backyards, swimming pools, lakes and beaches across the United States. Spring will kick start the preliminary battles that will escalate into all out H20 warfare come this summer. The
Stream Machine Store
features an ever expanding arsenal of
Water Launchers
and
Water Balloons
that will allow you to completely control the flow of combat. Stream Machine Launchers are highly flexible and can be implemented in close quarters and long distance combat. Stream Machine Water Balloons are equally as versatile and can be used to surprise opponents regardless of distance. The addition of Stream Machine Water Balloon Launchers will provide the ultimate advantage when striking from exceedingly great distances.
Strike and Dash with Stream Machine Launchers, Water Bazookas & Squirt Guns
No watery campaign is ever complete without the presence of a
Stream Machine 35-Inch Water Launcher
. These Stream Machine Water Guns are highly functional and include a rapid reload design that will keep you engaged for longer periods of time. Capable of firing H2O ammo as far as 70-feet, these water launchers are comprised of highly resilient polymers that will bolster durability significantly. The
Stream Machine 29-Inch Long Water Gun Set of Two
is another welcomed addition that will create the opportunity for competitive or coop water play. Featuring the same properties as the aforementioned water launcher, this set of Stream Machine Water Guns utilizes a slightly more compact design that will enable easier maneuvering. For those looking to strike and dash, the
Stream Machine 12-Inch Gun Water Launcher
has to be considered a standout with regards to performance and accessibility.
Surprise the Opposition with Stream Machine Water Balloons & Water Balloon Launchers
The savvy summer combatant knows the real value of a surprise H20 attack. There's really no better option than a well tossed water balloon. The
Stream Machine 3 Water Balloon Launcher
revives the ancient art of catapulting balloons sky-high across deep expanses of summer terrain. This Stream Machine Water Balloon Launcher implements a three person drawback system that will allow for an absolute bombardment of water to come crashing down on your opponents. The inclusion of a balloon tying tool will significantly lower the window of opportunity for enemies to counterattack with a Stream Machine Water Launcher. The Stream Machine Store has also outfitted its online catalogue with the
Water Balloon Refill Kit
. This surplus of five hundred water balloons will keep you and your allies stocked and ready to go for many battles to come.
One vs. One Fun in the Sun with Stream Machine Water Tag Set
The Stream Machine Store features all of the H20 weaponry you'll need to excel in the backyard, swimming pool, beach and lake setting. Competitive one on one battles are also possible via the
Water Tag Set with Water Launchers
. This set includes a pair of water guns and vests that will provide visual indicators of how much water is being absorbed. Regardless of whether you're aiming down the sights of a water launcher or prepping water balloons for departure, you'll have everything needed to drench your opposition during the upcoming spring and summer months.
Water Launchers

The easy to use, fast reload and powerful stream machine water guns. For rapid reloads, simply submerge the barrel in water, pull back the handle and replenish your Stream Machine with H2O Ammo! Comprised of high polymers and impregnated colors that will not chip or peel.
Water Balloon Fun

Combine our Biodegradable water balloon kits with a water balloon launcher and you are in for a fun day in the sun. Water balloon games, tossers and refill kits help you stay cool at any party or family event.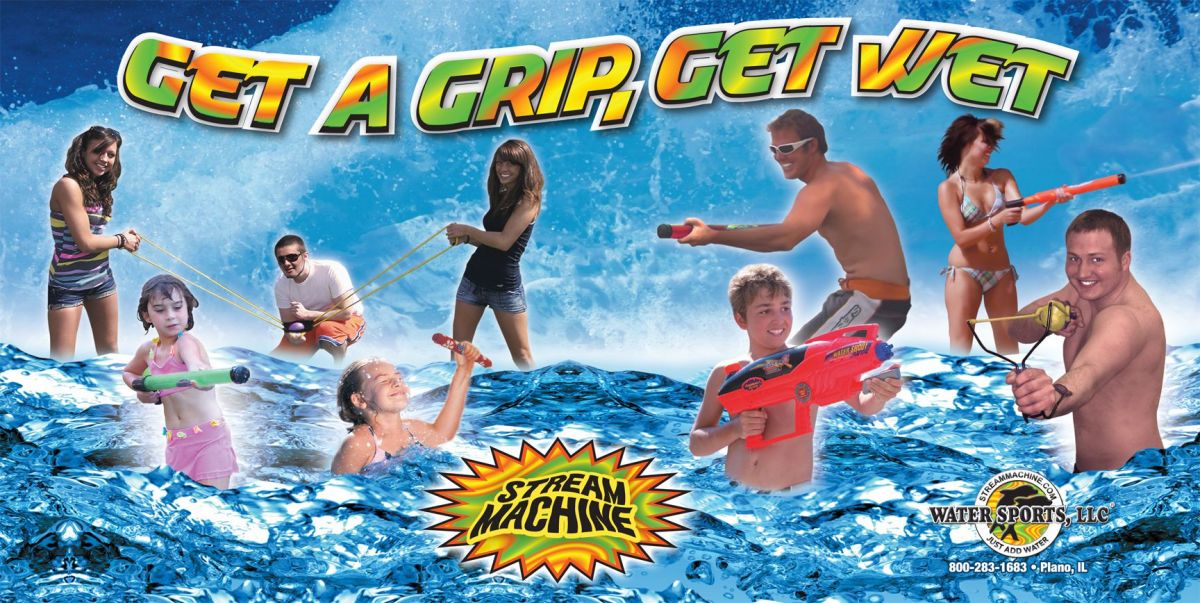 Stream Machine News Archive