Watersports Introduces the Geyser Guys Water Toys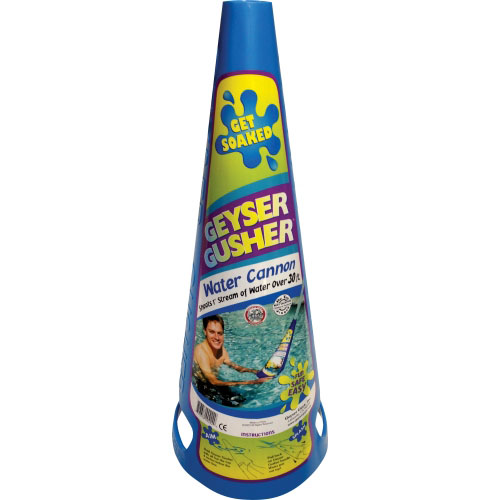 The
Stream Machine Store
is absolutely ecstatic to announce that it will be featuring a collection of
Geyser Toys
celebrated for their intuitive and award winning design! Showcasing an expanded range of water toys that display unparalleled versatility and excitement, our selection of Geyser Toys allows you to enjoy all of your favorite summertime activities with a much needed boost of H20! Regardless of whether you're searching for a critically acclaimed water cannon to douse your buddies or looking to add a watery twist to your favorite sports, our online catalogue of Geyser Toys is guaranteed to satisfy.
The recipient of numerous awards, the
Geyser Gusher Water Cannon
is being celebrated as a premier water toy that's capable of shooting a 1 inch stream of water over an impressive 30 feet. Unlike similarly constructed water toys on the market, the Geyser Gusher Water Cannon functions without the use of moving parts or outside power. Overall performance and accessibility have been emphasized to an even larger extent as this water cannon has completely streamlined the process of acquiring and firing water. Simply submerge the Geyser Gusher Water Canon underwater, grasp the handles on both sides and pull. It's that simple! For the latest iteration of the water cannon and an abundance of other options, the
Stream Machine Store
also features an excellent selection of
Water Launchers
.
Along with helping you get the absolute most out of your days spent in the sun, the
Geyser Toys
line will also be adding a boost of H20 to some of your favorite sports activities! The little slugger in the family will be thrilled with the addition of the
Geyser Baseball & Bat
. Capable of spraying water within a 10 foot diameter, the
Geyser Baseball
features a series of patent pending tubular holes that soak up water and release a stream of H20 upon flight and contact. Regardless of whether you want to be this year's gridiron hero with the
Large Geyser Football
or transform your backyard into a tournament soccer field with the
Geyser Mini Soccer Ball
,
you'll have no shortage of opportunities to splash a little water with these summertime favorites.
To see the entirety of the
Geyser Toys
water collection and a host of other performance exceeding water toys, be certain to visit the online
Stream Machine Store
and browse through our unrivaled selection of
Water Launchers
and
Water Balloons
. Our secure online servers and personal commitment to provide an unsurpassed customer experience have solidified the Stream Machine Store as everyone's favorite go to for acquiring the very best in summertime fun.